Epimedium Extract herbal powder Horny Goat Weed Active Ingredient Specification 98% Icariin CAS 489-32-7 organic supplement capsules
| | |
| --- | --- |
| Product Name | Epimedium Extract |
| Test Method | HPLC |
| Used Part | Leaf |
| Appearance | Brown powder |
| Odor &Taste | Characteristic |
| Active Ingredient | Icariin |
| Specification | 10%~98% |
| CAS NO. | 489-32-7 |
| Molecular Formula | C33H40O15 |
| Molecular Weight | 676.65 |
| Structure |   |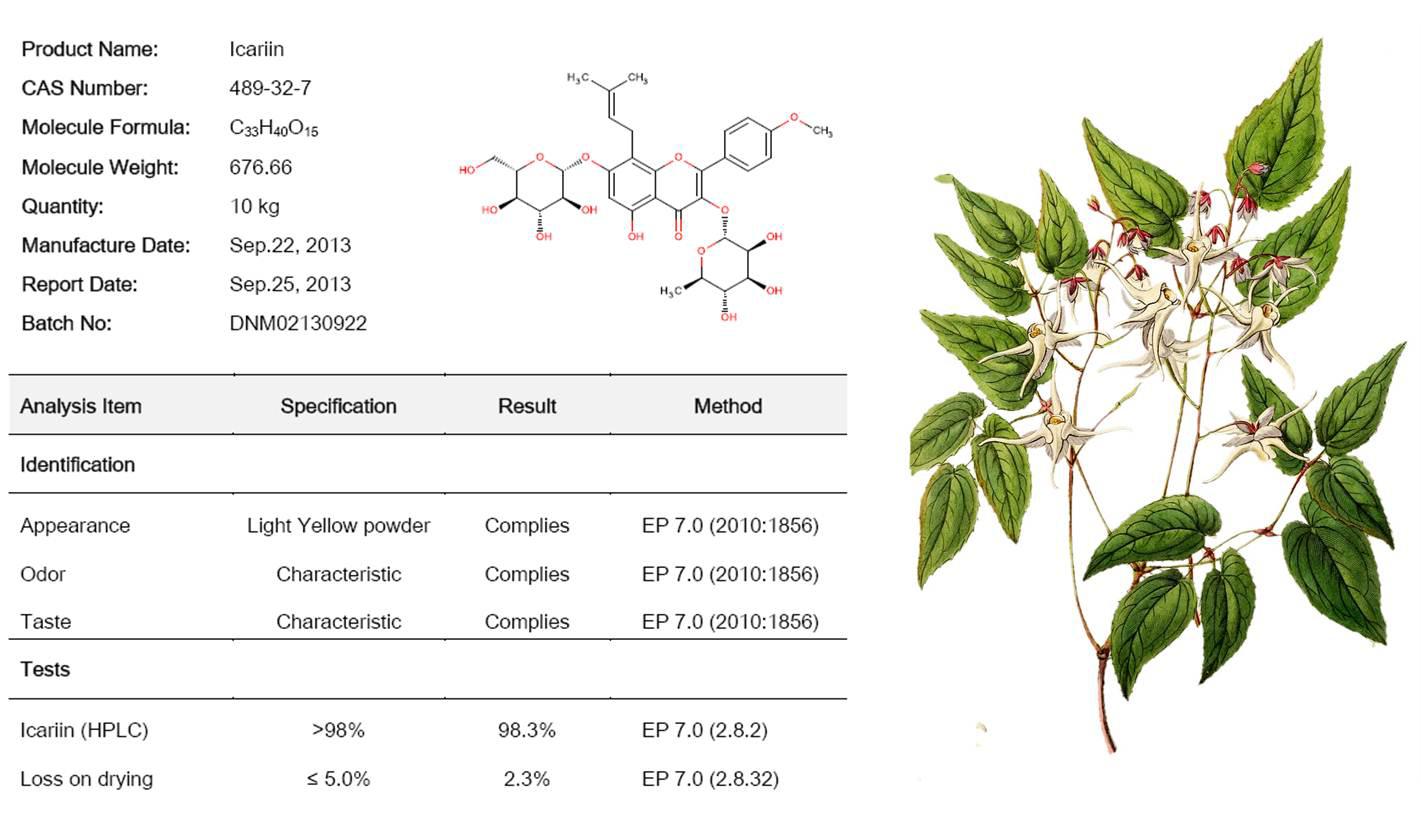 Physical Characteristics
Sieve Analysis NLT 100% pass 80 mesh
Loss on Drying ≤4.0%
Ash Content ≤2.0%
Residual Solvents
Ethanol ≤5000ppm
Total Heavy Metals ≤20ppm
Pesticide Residues ≤10ppb
Microbiological Assay
Total Plate Count 1000cfu/g
Total Yeast & Mold 100cfu/g
E.Coli Negative
Salmonella Negative
Staphylococcus Negative

Herba epimedii (Epimedium, also called bishop's hat, horny goat weed or yin yang huo), a traditional Chinese medicine, has been widely used as a kidney tonic and antirheumatic medicine for thousands of years. It is a genus of about 60 flowering herbs, cultivated as a ground cover plant and an aphrodisiac. The bioactive components in herba epimedii are mainly prenylated flavonol glycosides, end-products of the flavonoid pathway. Epimedium species are also used as garden plants due to the colorful flowers and leaves. Most of them bloom in the early spring, and the leaves of some species change colors in the fall, while other species retain their leaves year round.
1. Epimedium extract icariin powder can increase the number of kidney patients in T cells;
2. Epimedium extract powder with the function of lower blood pressure and blood sugar;
3. Epimedium extract icariin powder has the function of anti-aging, anti-bacterial, anti-virus and anti-inflammatory effect;
4. Epimedium extract powder can improve the immune system and the cardiovascular system, promote vasodilation;
5. Epimedium extract icariin powder can enhance sexual function, stimulate androgen hormones, activate sensory nerve.